| | | | |
| --- | --- | --- | --- |
| Poster: | He Live's | Date: | Jun 15, 2008 11:57pm |
| Forum: | GratefulDead | Subject: | NOVEMBER 1972, Vol. 1 -- Dark v. Light |
on NOVEMBER 11, 1972, Berry Oakley, bassist for the Allman Bros Band dies in a motorcycle accident in Macon GA. this is the event that precipitated a very intense, introspective tour of Texas by the Dead, during which, they were scheduled to play shows with the Allmans.....
Soldiers & Sailors Memorial Hall, Kansas City, MO. 1972-11-13:
AUD ONLY - the cold train opener is a rarity but the recording is barely audible, much less listenable..... the tempo is a tad too slow like usual on this opener. jerry sounds extra excited on china cat.... an above par version for the tour.... but the recording is an effort.
keeping up with the other shows from this month, PLAYIN IN THE BAND is engaging, even through the haze of this recording. in fact the recording CONTRIBUTES to the version. phil and billy are heard only in the same frequency, with BILLY occasionally disappearing altogther. PHILS dancing upper runs are lost, only intimated by the recording and BILLY's driving ride cymbal is denigrated to a persistent hiss ... KEITH and BOBBY maintain a purposeful background conversation, heard only over the clatter of forks on glass, and a truck pulling to the light erases everything. you are sort of inside JERRY's head now, you hear only his consistent narration.... there is a caucauphony around him and he relates to it directly and then heads off on the old silent dictation one does to oneself... all only highlighted by the act of making your speech into MUSIC..... HERE the basic theme is laid out before us -- a constant vascillation between phases of interaction with the world and subconsciou/dreamlike internal conversations.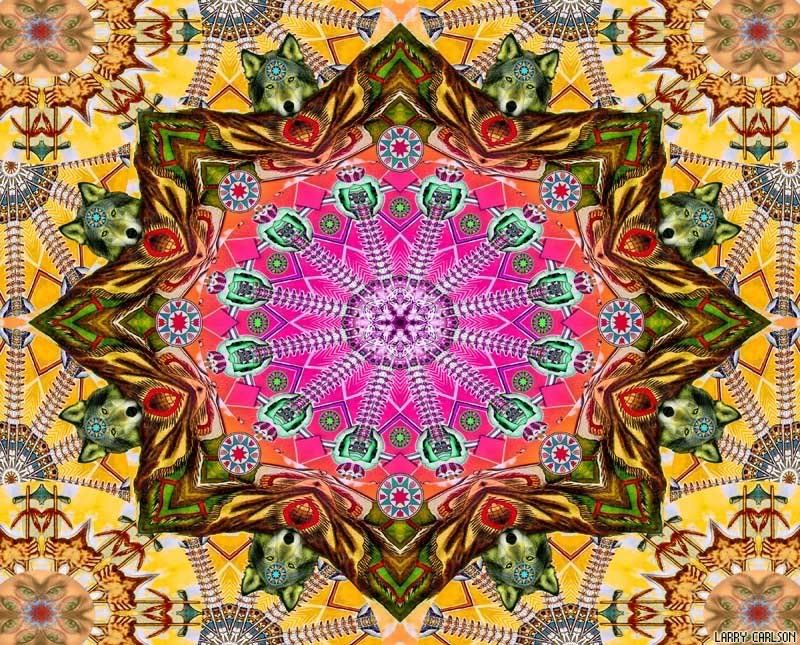 JERRY drops us back into a MASSIVE DOSE of reality at the 15 MINUTE MARK as he releases the MAIN TEN THEME and starts a MASSIVE "TIGER" build up that clashes with keith like two TRAINS of thought passing at night, a NEAR MISS in the darkness..... this is kansas yea? or maybe not anymore..... they pass safely into the night by the 16 minute mark..... and begin the descent into UNISON. .... the recording sucks but this is WORTH YOUR TIME.
Oaklahoma City Music Hall, 1972 11-14 & 11-15:
NIGHT ONE:
the recording from this show sounds great. the sets played on this tour were very sameish. there was plenty of improvisation but they had a book of tunes and were not averse to playing most of IT each night. and they are fairly "on" through most of the tour, with amazing heights of improvisation mixed in with solid renditions of many of their most enduring songs.....
pick it up with BERTHA.... billy and keith sound very low in the mix.... it is a guitar song and the boys are all stomping. jerry gives up a solid vocal.... with Box of Rain and the only FRIEND OF THE DEVIL of the tour, the set takes on a nice American Beauty flavor...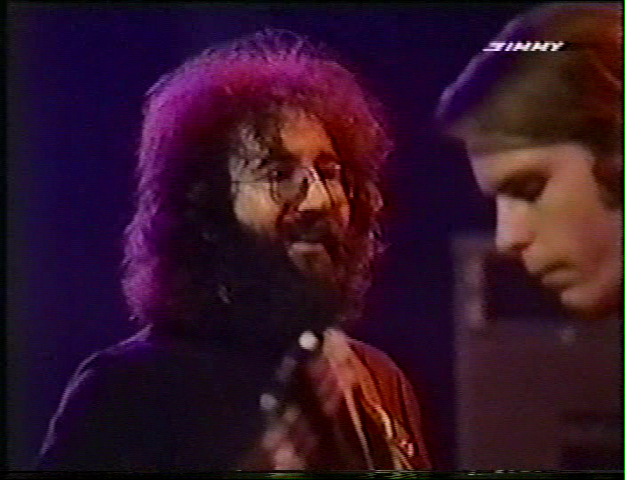 this night it would be He's Gone>Truckin'>Other One to take us there... after a sparse vocal outro Jerry really steps out with a big rhythmic statement, like he wants to go right to truckin', but soon mellows and starts some of the nice complimentary stuff he does with weir, as he introduces one phrase after another and as soon as bobby picks up on it adds another twist.... their He's Gone DIALECT.... from here, in perfect sync, they can slide into, or out of truckin' at will, JERRY is content to tease it along.... phil tries to step in but jerry backs off, resisting the inevitable, he can't win phil over so pushes into the other one decisively at 14:40 of HE'S GONE!!
a quick pause, and bob counts them right into TRUCKIN'.... they are just funning with us now.... jer really struts through this version like he got his way anyway. bobby lets loose some throat destroying screams on the last chorus, jer gets into a nice blues vibe before hitting his signature runs, and then he continues mixing in other one right away, then back to truckin, no, other one, no -- truckin, OKOKOK -- back to THE OTHER ONE
the turn away from truckin' to the other one finds jerry separating himself from the rest of the band, they make a careful descent, and then begin the conversation again, as jerry comes back to the fold reporting to the others from the other side, but then drifts again.... at the height of his mania, he LANDS SERENELY at the 3:35 mark of The Other One and takes a very complimentary tone.... and softer still at the 4:40 mark when he comes in with some very dreamy finger picked runs, he begins a dangerous atonal conversation with keith.... they begin the song as if again at 6:00 -- WHAT AN INTRO! the long jam between the verses is dark and harrowing and very satisfying..... though jerry almost slips into Wharf Rat, (gone until '73) he turns quickly to SING ME BACK HOME..... a quiet reverential version is played....
(don't miss the FIERCE jams they layed down on the 4 Uncle John's Band from this tour, all RAGERS!)
NIGHT TWO:
only a portion of this show has survived on tape.... and it is ALL A KEEPER :
these are the songs they are supposed to have played:
Set 1:The Promised Land, Ramble On Rose, Mexicali Blues, Brokedown Palace, Candyman, China Cat Sunflower>I Know You Rider, Playin' In The Band
Set 2:Not Fade Away>Goin' Down The Road Feelin' Bad>Not Fade Away
here on the archive there is no Candyman but there is a BIG RR BLUES, always a sign, IMO, of a good night..... all the songs are played well this night, THOUGH, jerry botches the lyrics on Brokedown, too bad .... they have a good vocal mix going. the china>rider is up to par and the NFA>GDTRFB>NFA contains some good jams, and surprisingly gooey playing from keith....
alas, it is yet another MONUMENTAL Playin in the Band that steals the show on this night.... clocking in at just over 30 minutes this is the longest version offered up on the Texas swing.... and while it is somewhat dark and filled with twists and turns i find this to be a very group oriented version, jerry seems content to remain in dialogue with the outside world not so prone to the bouts of inner turmoil and isolation that seem to have driven the version from 11/13 to such emotional highs, and lows..... after many minutes of just absolutely furious picking jerry touches base with the playing theme again at about 8:20..... he stops playing entirely, and keith tentatively starts filling the void.... but he is only dipping his toe in.... when jerry re-enters at 9:40 keith switched from electric to acoustic piano and jerry flirts with the interior, but backs off again to make sure everyone is in on the conversation.... jerry continues throwing out every riff he can come up with, including many "tiger"-style runs, flirting with the dark and the light -- finally, at about 28:00 the energy subsides and they regroup one last time and find their way to a conclusion.....
Century II Convention Hall, 1972-11-17
after an intense two-nighter in OKLAHOMA, this show finds the boys in Wichita, KANSAS -- they get off with a typical opening -- pick it up at BIRDSONG: this is one of the all time versions.... but one only to be eclipsed, perhaps, by the one offered two nights later in Houston: wow... jerry comes out of the vocal with extra feeeeling.... in his vocal and then in his playing -- bird song always seems to be a bit of a tease on one level, and then, by design, also an indicator that the boys, and especially MR G, were feelin IT that night.... jerry really starts squeezing it at about 4:20 -- it is the short arc he likes to toy with in this song -- purposefully keeping his statements short and letting the group sound play them out..... as was his style, as much as JERRY went out, he was always very attentive to song structure, and in birdsong, even his improvised lines adhere to the length and substance indicated by the lead riff......
the jack straw is OK, and don't ease is well played, B.E. WOMEN, Big River and china>rider are all played well. they rock out with fine versions of AROUND and Casey Jones to close SET 1. the second opens with CUMBERLAND, and BOY, we are TREATED TO IT! down from 45 times played in 1970, cumberland only went down to the mine 22 times in 72 and never in TEXAS. this is the only version on the mid-west fall tour..... played one more time at WINTERLAND on 12/12.... and then only 6 times in 73, 7 in 74.... the gone till 81........
just like on 11/14, the sequence this night would be He's Gone>Truckin>Other One... but tonight HG peters out to silence and Truckin is a slow rise, jerry is not toying with all the riffs at once, but plays a more submissive role..... in no rush, we get some fine bluesey riffing from the lead guitarist out of truckin.... THE SLIDE into The Other One is very well done..... and then the CRUSH: jerry pushes this Other One forward relentlessly, as he switches tone and demeanor in an effort to take this version as far as possible -- at about the 16 minute mark all hell is breaking loose, jerry violently lets loose tiger type riffs and the band plays in kind, subconscious energy bubbles up to the surface from each member..... they settle back on recognizable terrain around 19 minutes and bobby sings the final verse.... the end is begging for a CRYPTICAL REPRISE, but jerry leads us into a wonderful BROKEDOWN PALACE -- gorgeous.... he gets all the lyrics and the group sounds great.......
a very fine SUGAR MAGNOLIA comes next, blissfully rocking us out .... they stop at 5:30 and then treat us to a SUPERB SUNSHINE DAYDREAM CLIMAX!!!!..... did i mention the UJBs offered up on this texas run? of course i did.... another slammin version closes this exquisite set.... GodDamnedGratefulDead INDEED!!!!
This post was modified by He Live's on 2008-06-16 06:57:00